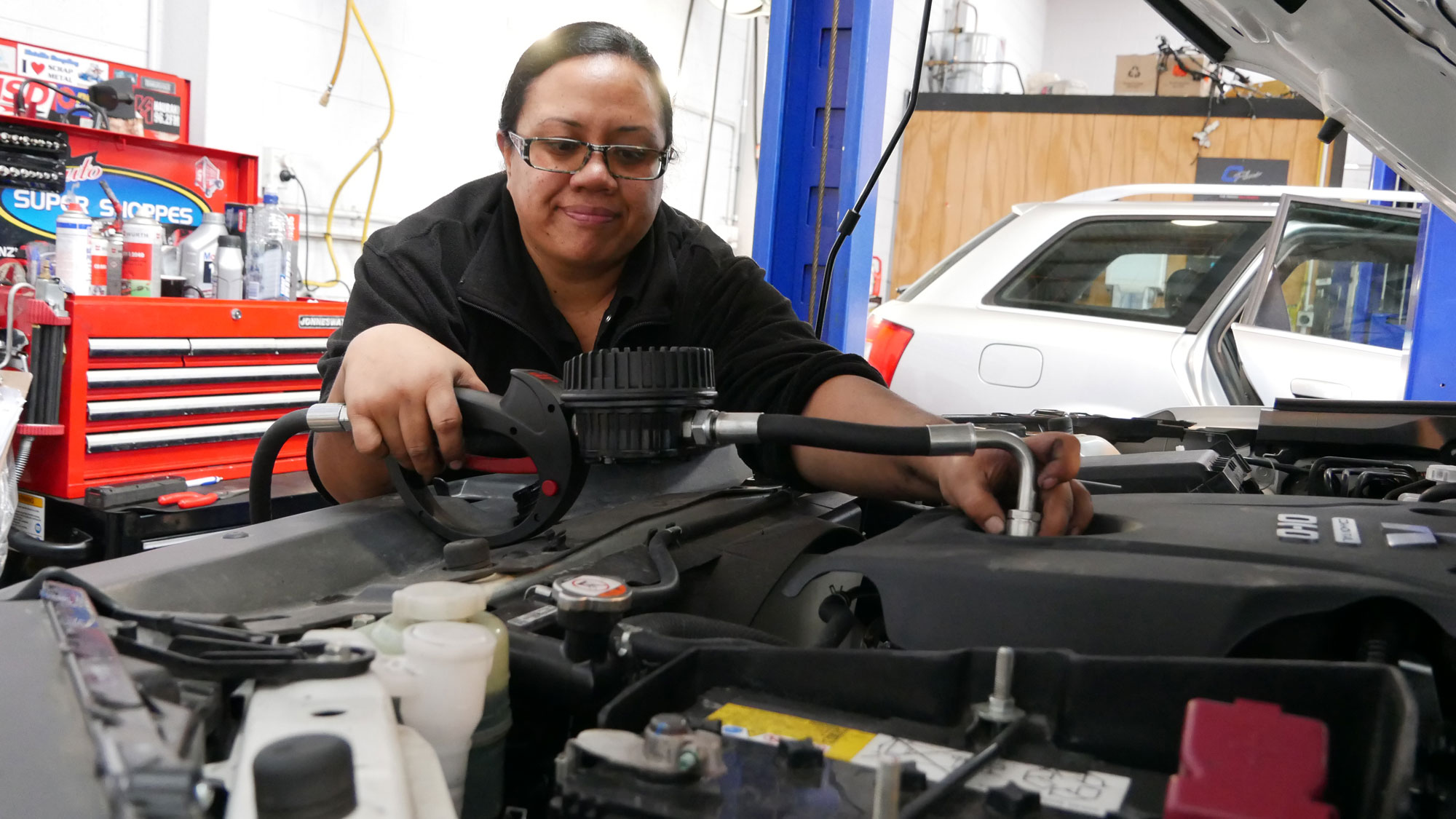 If this is your dream - just go for it
From pulling apart lawnmowers as a child to now becoming an automotive technician, Marama Thompson's dreams have come true. She always had an interest in mechanics and how machines operated. However, it wasn't until Covid-19 and the lockdowns in 2020 that she had her chance to get into the automotive industry.

Marama has worked various jobs over her career – in a bakery, a factory and retail. When Covid-19 hit, Marama thought this would be a great time to chase her automotive dream. "I've always been interested in the automotive industry, and it's always been one of my dreams to be a mechanic. I never fulfilled it until Covid-19 hit, and everything was downturned. My job at the time was in retail and had slowed down, so I decided to chase my dream and become a mechanic."

Her journey into the automotive industry started when she applied for the Auto Super Shoppe Academy in Auckland. "Through this course, we had days where we would work in a workshop. We visited multiple workshops and from there I was able to gain some connections and get noticed by employers."
We visited multiple workshops and from there I was able to gain some connections and get noticed by employers.
Marama Thompson
Marama secured employment at Auto Super Shoppes Eurotech in Hamilton and is now completing MITO's New Zealand Certificate in Automotive Engineering Light Vehicle. Her current employer Nik Fowlie heard about Marama and the great work she was doing in her course from the team at the Auto Super Shoppe Academy. "Marama was doing work experience for another company and Super Shoppe told us about her. She did a one-week trial and she seemed like a good fit, she listened well and didn't muck around. She is definitely cut from the mechanic cloth."
Marama's journey hasn't always been easy and credits her great support system to helping achieve her automotive goals while juggling her home and family life. "I have a great support system at home. When I ended up pregnant, we moved home to save up to buy a house. Things took a turn and my parents got sick, so I could support them. There were heaps of people around to help me with my baby and get her off to school so I still had time to do my job and course."
As to how she's managed to still study, work and look after her family, the answer is making time. "I work through the eLearning every night after work. I used to have certain days I would study but when my dad got sick, I went back to doing it nightly. If I am behind or something doesn't look right, I make sure to make time on the weekend to get back up to speed."
Nik admires Marama's commitment to the job and her customer focus. "Marama comes into work every day with a smile on her face and she is extremely vital to our operation. She has a real aptitude to customer service." Nik's five-year goal is to open another shop and wants Marama to take over at the current one as operations manager.
Marama's hard work and dedication to achieving her dream is inspiring and one thing she wants to tell future apprentices and women in the industry is to "just go for it. Don't let anyone hold you back. People have this idea that this is a male-dominated industry, and I was put off in the beginning as I thought the same. However, I have had so much support since the beginning of my career and I'm loving it every day."